︎ Book Now
︎ About us

︎ Rooms
︎Facilities
︎ Featured Artists
︎ Get to know Oaxaca
︎ café ayoOK

︎ TripAdvisor
︎ Instagram
︎ Booking
︎ Expedia
︎ AirBnB

︎ Apply for a sponsorship
with us



Located in the beginning of the historic center of the city, Ayook is an small contemporary hotel built from the remains of an XVIII century's house. Our name comes from the self-denomination Mixe "Ayöök jayu: gente de la lengua de las montañas"

---

Localizado en el inicio del centro histórico de la ciudad, Ayook es un pequeño hotel contemporáneo construido de los remanentes de una construcción del siglo XVIII. "Ayöök jayu: gente de la lengua de las montañas"


Featured Artists
---
We were proudly born in the land of great artists such as; Rufino Tamayo, Francisco Toledo, Alvaro Carrillo, & Andrés Henestrosa, who found beauty in these lands and showed it to the rest of the world.
We believe that by working with local and contemporary artists, we can improve our times. For this reason, we brought you an array of artist's work, which helped make our hotel unique. If you wish to contact them or buy their artwork, we can happily
introduce them to you.

---
Nacimos orgullosamente en la tierra de los grandes artistas, Rufino Tamayo, Francisco Toledo, Alvaro Carrillo & Andrés Henestrosa, que encontraron belleza en estas tierras y se la mostraron al resto del mundo. Creemos que trabajando con artistas locales y contemporáneos podemos mejorar nuestros tiempos, es por eso que les trajimos algunos que nos ayudaron a hacer único nuestro hotel y, si desea contactarlos o comprar su trabajo, podemos presentarselos felizmente.

Eva Lepiz
---
Photographer
San Cristóbal de las Casas, Chiapas
1985

Eva was born in Chiapas and grew up in Oaxaca, she is a photographer who has been professionally trained in plastic arts and architecture, later she took various classes with renowned photographers from Magnum Agency, National Geographic, Lesley University of Arts and Design, the Manuel Álvarez Photographic Center Bravo, the San Agustin Arts Center, and the Image Center.

Since 2013 he has worked as a teacher in the project "New Visions Narrating Visual Stories" at the Manuel Álvarez Bravo Photographic Center, has participated as a teacher at the San Agustín Etla Center for the Arts, has worked for international photography workshops as workstudies and as an assistant field and producer.

She works in commercial photography, educational and personal projects that cover the subject of gender, family and community identity. It has been published with various publishers and exhibitions in Mexico and abroad. She was selected for the New York Times Portfolio Review in 2020.
Eva nació en Chiapas y se crio en Oaxaca, es una fotógrafa que se ha formado profesionalmente en artes plásticas y arquitectura, posteriormente curso diversas clases con reconocidos fotógrafos de Magnum Agency, National Geographic, Lesley University of Arts and Design, el Centro Fotográfico Manuel Álvarez Bravo, el Centro de las Artes de San Agustin, y el Centro de la Imagen.

Desde el 2013 se desempeña como docente en el proyecto "Nuevas Visiones Narrando Historias Visuales" del Centro Fotográfico Manuel Álvarez Bravo, ha participado como docente en el Centro de las Artes de San Agustín Etla, ha trabajado para workshops internacionales de fotografía como workstudy como asistente de campo y productora.

Se desempeña en fotografía comercial, proyectos educativos y personales que abarcan el tema de género, familia e identidad comunitaria. Se ha publicado con diversas editoriales y exhibiciones en México y en el extranjero. Fue seleccionada para la Revisión de Portafolios del New York Times en 2020.
Alberto Cruz
---
Visual Artist
Santa Cruz Xoxocotlán , Oaxaca
1990


Alberto Cruz was born in Santa Cruz Xoxocotlán, Oaxaca, and holds a Plastic Arts degree from the Benito Juárez Autonomous University of Oaxaca. His primary medium is printmaking. In 2016, he was the recipient of the Takeda Award, and to date has accomplished three solo exhibitions in Mexico, and has exhibited in several group exhibitions, both national and international.

The work of Alberto Cruz focuses on childhood and innocence, his line is pure and simple. From his lucid and mysterious narrative, each piece tells of a world of possibilities. His primary imagery is children's illustration, which Alberto Cruz finds a personal language to create his work.

He is currently one of the members of the Oaxaca Graphic and Burro Press Workshop.
Alberto nació en Santa Cruz Xoxocotlán, Oaxaca y es licenciado en Artes Plásticas por la Universidad Autónoma Benito Juárez de Oaxaca. Su medio principal es el grabado. En 2016 fue galardonado con el premio Takeda y hasta la fecha ha tenido tres exposiciones individuales en México, y ha expuesto en varias exposiciones colectivas tanto nacionales como internacionales.

El trabajo de Alberto Cruz se centra en la infancia y la inocencia, su línea es pura y simple. Desde su narrativa lúcida y misteriosa, cada pieza cuenta un mundo de posibilidades. Su imagen principal es la ilustración infantil en la que Alberto Cruz encuentra un lenguaje personal para crear su obra.

Actualmente es uno de los miembros del Taller de Prensa Gráfica y Burro de Oaxaca.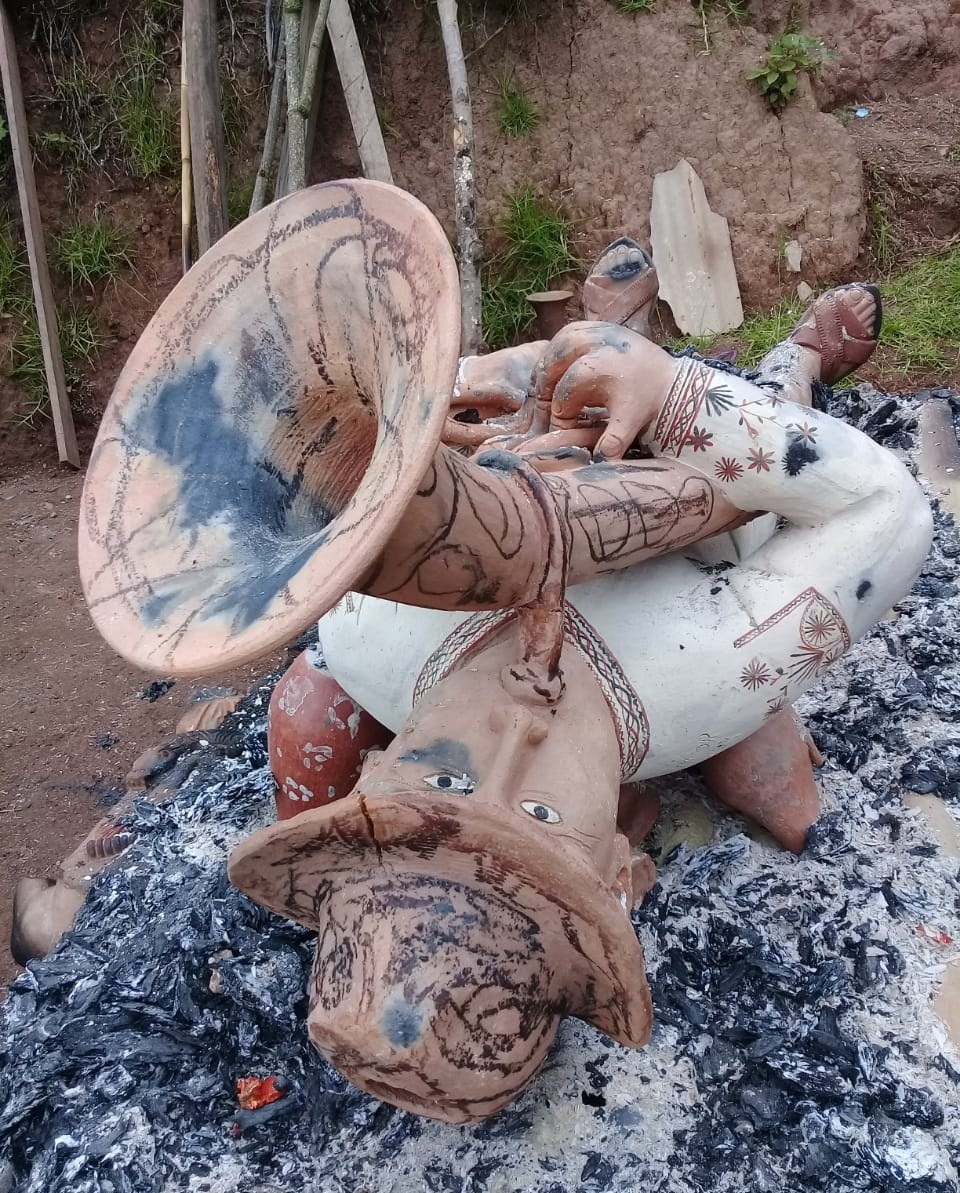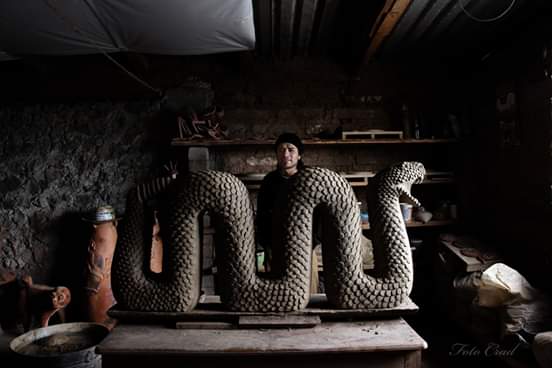 Victor Vázquez Martinez
---
Sculptor
Santa Maria Tlahuitoltepec, Oax
1989
Victor nació en la Santa Maria Tlahuitoltepec, cabecera de la cultura Mixe, en la Sierra Norte del estado de Oaxaca.

En su trabajo expresa la historia de su tierra, "Músicos" tal como la banda que hace famoso su municipio, vestidos con