︎ Book Now
︎ About us

︎ Rooms
︎Facilities
︎ Featured Artists
︎ Get to know Oaxaca
︎ café ayoOK

︎ TripAdvisor
︎ Instagram
︎ Booking
︎ Expedia
︎ AirBnB

︎ Apply for a sponsorship
with us



Located in the beginning of the historic center of the city, Ayook is an small contemporary hotel built from the remains of an XVIII century's house. Our name comes from the self-denomination Mixe "Ayöök jayu: gente de la lengua de las montañas"

---

Localizado en el inicio del centro histórico de la ciudad, Ayook es un pequeño hotel contemporáneo construido de los remanentes de una construcción del siglo XVIII. "Ayöök jayu: gente de la lengua de las montañas"


Rooms
---
Comfort, Safety & Price

We kindly request your attention to our policies. Our property does not accommodate children, and unfortunately, we do not have additional beds available. We are unable to accommodate pets on our premises. We appreciate your understanding and cooperation regarding these guidelines.


Solicitamos amablemente su atención a nuestras políticas. Nuestra propiedad no admite niños y, lamentablemente, no tenemos camas adicionales disponibles. No podemos alojar mascotas en nuestras instalaciones. Agradecemos su comprensión y cooperación con respecto a estas pautas.
Welcome to our cozy establishment! Our rooms, though small, are full of inspiration. They have been carefully decorated with high quality elements and decorated with charming local artisan details. In our selection of 12 comfortable rooms, you can choose the one that best suits your needs, all of them ready to welcome you and help create unforgettable memories. In addition, you will be able to enjoy our picturesque patios and interior terraces, which will provide you with a calm and pleasant environment. Best of all, we offer these spaces at an affordable price, without compromising quality, and with excellent services for your comfort.

---
¡Bienvenido a nuestro acogedor establecimiento! Nuestras habitaciones, aunque pequeñas, están llenas de inspiración. Han sido cuidadosamente diseñadas con elementos de alta calidad y decoradas con encantadores detalles artesanales locales. En nuestra selección de 12 cómodas habitaciones, podrá elegir aquella que más se ajuste a sus necesidades, todas ellas listas para recibirlo y ayudarlo a crear recuerdos inolvidables. Además, podrá disfrutar de nuestros pintorescos patios y terrazas interiores, que le brindarán un entorno tranquilo y agradable. Lo mejor de todo es que ofrecemos estos espacios a un precio accesible, sin comprometer la calidad, y con excelentes servicios para su comodidad.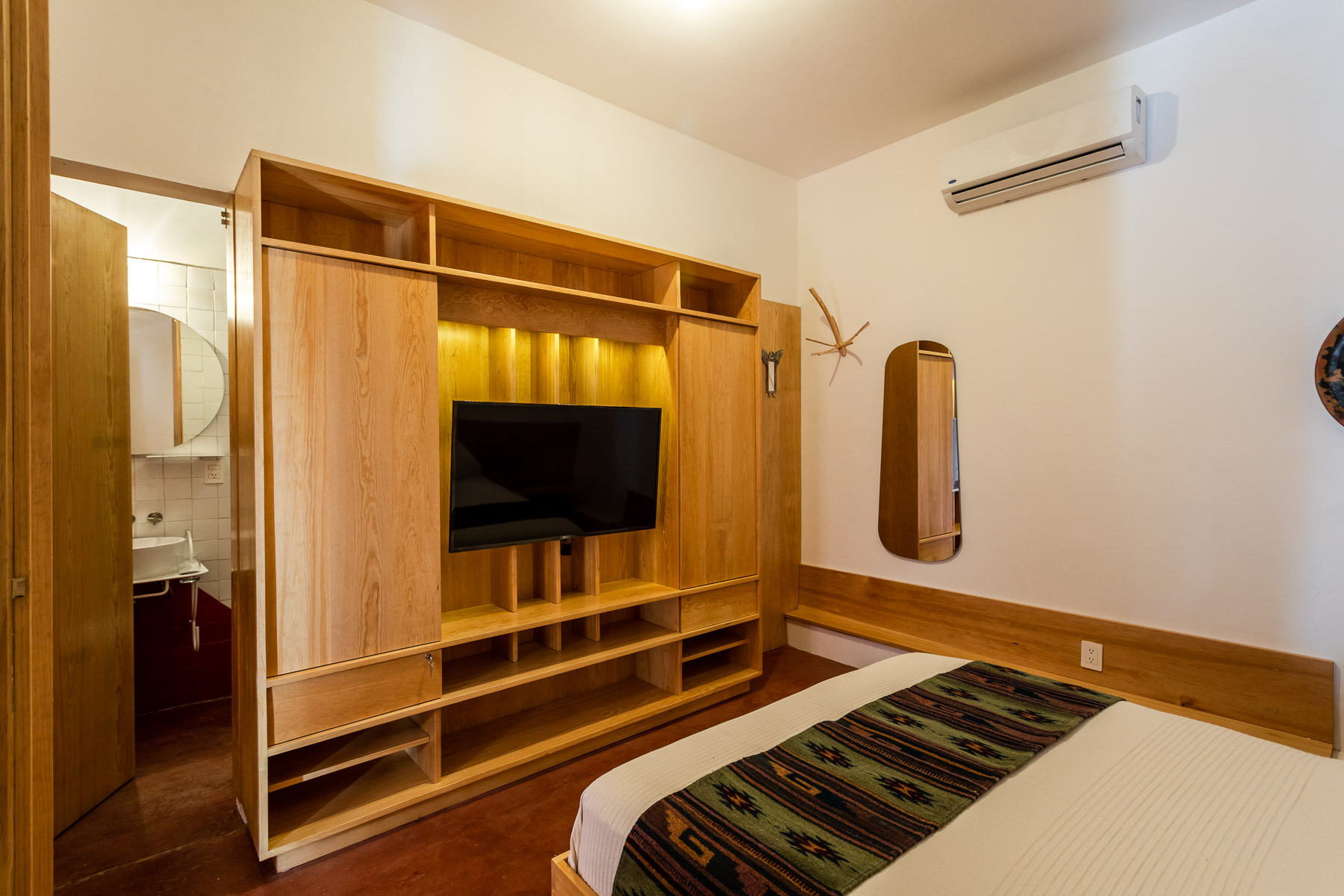 Room 1
---
Located at ground floor
(in front of Patio 1)
Queen Size Bed
*Close from Front Desk and Main Entrance
17 m²

Starting at $1,400.00 MXN per night
Rates subject to change depending on season. No taxes included


- AC
- Daily cleaning
- Oaxacan breakfast menu with seasonal fresh fruit, sweet local bread, and coffee or tea
- Private bathroom with shower
- Independent internet network for each room
- HD TV with local channels and SmartTV
- Closet with hook set
- Toiletries: soap, shampoo, and towels
- Lockable cabinet and safe box
- Access to the common areas, garden, and terrace
- Aire Acondicionado
- Servicio de limpieza diaria
- Desayuno Oaxaqueño por menú, incluye fruta fresca de temporada, pan dulce y café o té
- Baño privado con regadera
- Red independiente de internet en cada cuarto
- Televisión HD con canales locales y SmartTV
- Armario con ganchos
- Jabón, shampoo y toallas
- Gabinete con llave y caja fuerte
- Acceso a las áreas comunes


Room 2
---
Located at ground floor
(in front of front desk)
Double Size Bed
*No Window
17 m²

Starting at $1,400.00 MXN per night
Rates subject to change depending on season. No taxes included


- AC
- Daily cleaning
- Oaxacan breakfast menu with seasonal fresh fruit, sweet local bread, and coffee or tea
- Private bathroom with shower
- Independent internet network for each room
- HD TV with local channels and SmartTV
- Closet with hook set
- Toiletries: soap, shampoo, and towels
- Lockable cabinet and safe box
- Access to the common areas, garden, and terrace
- Aire Acondicionado
- Servicio de limpieza diaria
- Desayuno Oaxaqueño por menú, incluye fruta fresca de temporada, pan dulce y café o té
- Baño privado con regadera
- Red independiente de internet en cada cuarto
- Televisión HD con canales locales y SmartTV
- Armario con ganchos
- Jabón, shampoo y toallas
- Gabinete con llave y caja fuerte
- Acceso a las áreas comunes

Room 3
---
Located at ground floor
(in front of Patio 2)
Queen Size Bed
17 m²

Starting at $1,500.00 MXN per night
Rates subject to change depending on season. No taxes included


- AC
- Daily cleaning
- Oaxacan breakfast menu with seasonal fresh fruit, sweet local bread, and coffee or tea
- Private bathroom with shower
- Independent internet network for each room
- HD TV with local channels and SmartTV
- Closet with hook set
- Toiletries: soap, shampoo, and towels
- Lockable cabinet and safe box
- Access to the common areas, garden, and terrace
- Aire Acondicionado
- Servicio de limpieza diaria
- Desayuno Oaxaqueño por menú, incluye fruta fresca de temporada, pan dulce y café o té
- Baño privado con regadera
- Red independiente de internet en cada cuarto
- Televisión HD con canales locales y SmartTV
- Armario con ganchos
- Jabón, shampoo y toallas
- Gabinete con llave y caja fuerte
- Acceso a las áreas comunes
Room 4
---
Located at ground floor
(in front of Patio 2)
Double Size Bed
14 m²

Starting at $1,200.00 MXN per night
Rates subject to change depending on season. No taxes included


- AC
- Daily cleaning
- Oaxacan breakfast menu with seasonal fresh fruit, sweet local bread, and coffee or tea
- Private bathroom with shower
- Independent internet network for each room
- HD TV with local channels and SmartTV
- Closet with hook set
- Toiletries: soap, shampoo, and towels
- Lockable cabinet and safe box
- Access to the common areas, garden, and terrace
- Aire Acondicionado
- Servicio de limpieza diaria
- Desayuno Oaxaqueño por menú, incluye fruta fresca de temporada, pan dulce y café o té
- Baño privado con regadera
- Red independiente de internet en cada cuarto
- Televisión HD con canales locales y SmartTV
- Armario con ganchos
- Jabón, shampoo y toallas
- Gabinete con llave y caja fuerte
- Acceso a las áreas comunes
Room 5
---
Located at ground floor
(in front of Patio 2)
Double Size Bed
14 m²

Starting at $1,200.00 MXN per night
Rates subject to change depending on season. No taxes included


- AC
- Daily cleaning
- Oaxacan breakfast menu with seasonal fresh fruit, sweet local bread, and coffee or tea
- Private bathroom with shower
- Independent internet network for each room
- HD TV with local channels and SmartTV
- Closet with hook set
- Toiletries: soap, shampoo, and towels
- Lockable cabinet and safe box
- Access to the common areas, garden, and terrace
- Aire Acondicionado
- Servicio de limpieza diaria
- Desayuno Oaxaqueño por menú, incluye fruta fresca de temporada, pan dulce y café o té
- Baño privado con regadera
- Red independiente de internet en cada cuarto
- Televisión HD con canales locales y SmartTV
- Armario con ganchos
- Jabón, shampoo y toallas
- Gabinete con llave y caja fuerte
- Acceso a las áreas comunes
Room 6
---
Located at ground floor
(in front of Patio 2)
2 Double Size Bed
37 m²

Starting at $2,200.00 MXN per night
Rates subject to change depending on season. No taxes included


- AC
- Daily cleaning
-Minibar
- Inner courtyard with hammock
- Oaxacan breakfast menu with seasonal fresh fruit, sweet local bread, and coffee or tea
- Private bathroom with shower
- Independent internet network for each room
- HD TV with local channels and SmartTV
- Closet with hook set
- Toiletries: soap, shampoo, and towels
- Lockable cabinet and safe box
- Access to the common areas, garden, and terrace
- Aire Acondicionado
- Servicio de limpieza diaria
- Minibar
- Patio interior con hamaca
- Desayuno Oaxaqueño por menú, incluye fruta fresca de temporada, pan dulce y café o té
- Baño privado con regadera
- Red independiente de internet en cada cuarto
- Televisión HD con canales locales y SmartTV
- Armario con ganchos
- Jabón, shampoo y toallas
- Gabinete con llave y caja fuerte
- Acceso a las áreas comunes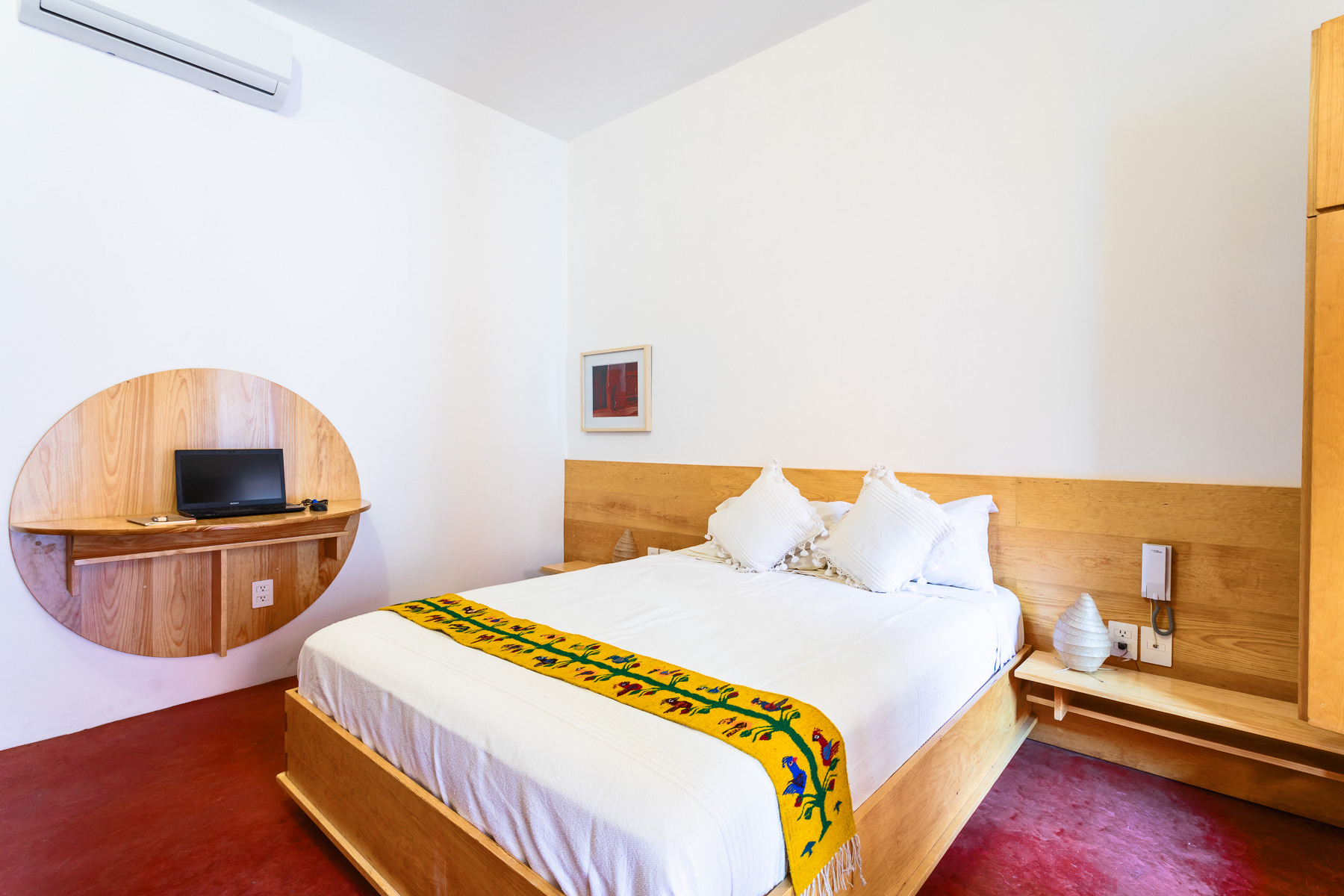 Room 7
---
Located at first floor
(in front of Patio 1)
Queen Size Bed
17 m²

Starting at $1,300.00 MXN per night
Rates subject to change depending on season. No taxes included


- AC
- Daily cleaning
- Oaxacan breakfast menu with seasonal fresh fruit, sweet local bread, and coffee or tea
- Private bathroom with shower
- Independent internet network for each room
- HD TV with local channels and SmartTV
- Closet with hook set
- Toiletries: soap, shampoo, and towels
- Lockable cabinet and safe box
- Access to the common areas, garden, and terrace
- Aire Acondicionado
- Servicio de limpieza diaria
- Desayuno Oaxaqueño por menú, incluye fruta fresca de temporada, pan dulce y café o té
- Baño privado con regadera
- Red independiente de internet en cada cuarto
- Televisión HD con canales locales y SmartTV
- Armario con ganchos
- Jabón, shampoo y toallas
- Gabinete con llave y caja fuerte
- Acceso a las áreas comunes


Room 8
---
Located at first floor
(in front of library)
Double Size Bed
17 m²

Starting at $1,300.00 MXN per night
Rates subject to change depending on season. No taxes included


- AC
- Daily cleaning
- Oaxacan breakfast menu with seasonal fresh fruit, sweet local bread, and coffee or tea
- Private bathroom with shower
- Independent internet network for each room
- HD TV with local channels and SmartTV
- Closet with hook set
- Toiletries: soap, shampoo, and towels
- Lockable cabinet and safe box
- Access to the common areas, garden, and terrace
- Aire Acondicionado
- Servicio de limpieza diaria
- Desayuno Oaxaqueño por menú, incluye fruta fresca de temporada, pan dulce y café o té
- Baño privado con regadera
- Red independiente de internet en cada cuarto
- Televisión HD con canales locales y SmartTV
- Armario con ganchos
- Jabón, shampoo y toallas
- Gabinete con llave y caja fuerte
- Acceso a las áreas comunes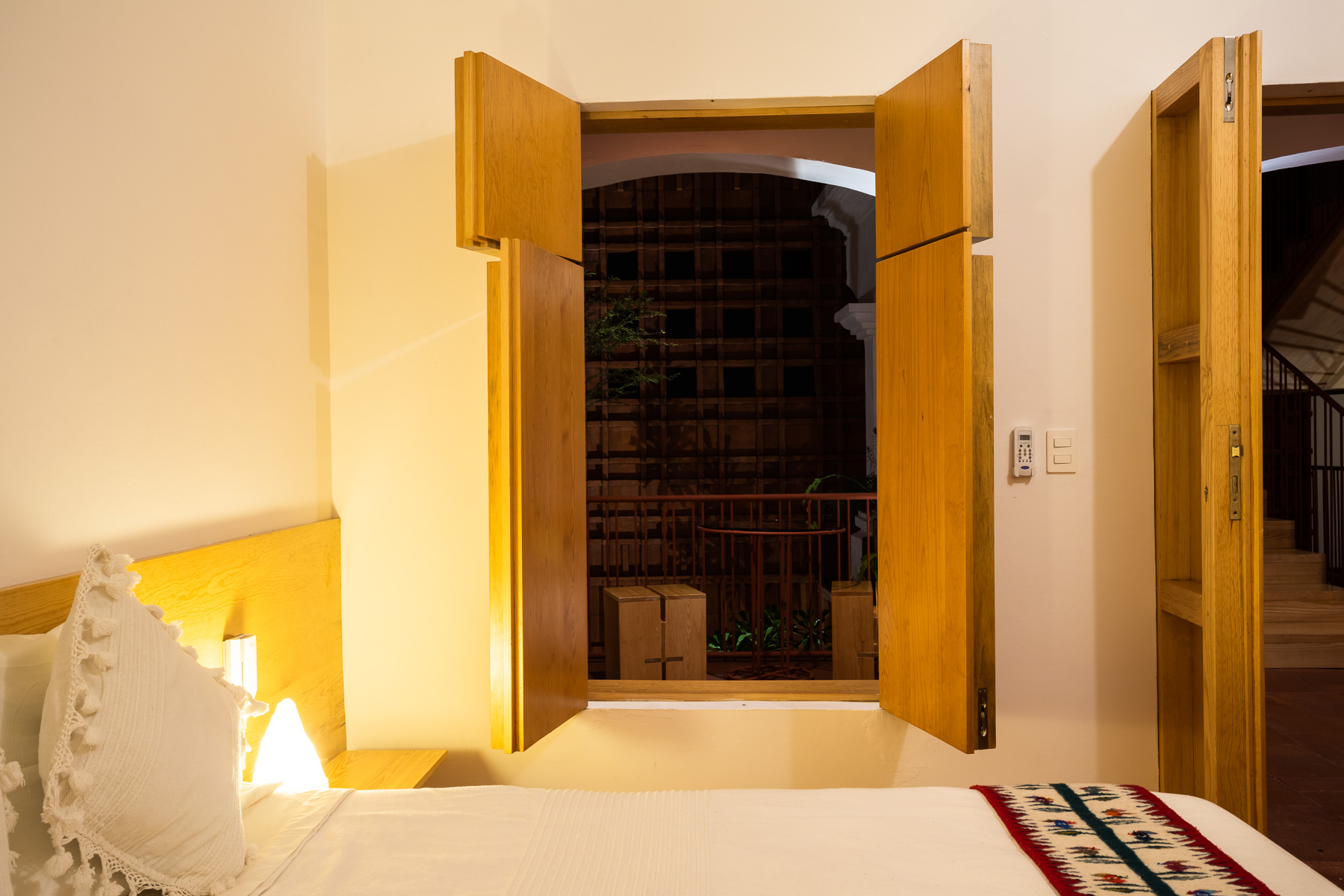 Room 9
---
Located at first floor
(in front of Patio 2)
Queen Size Bed
17 m²

Starting at $1,400.00 MXN per night
Rates subject to change depending on season. No taxes included


- AC
- Daily cleaning
- Oaxacan breakfast menu with seasonal fresh fruit, sweet local bread, and coffee or tea
- Private bathroom with shower
- Independent internet network for each room
- HD TV with local channels and SmartTV
- Closet with hook set
- Toiletries: soap, shampoo, and towels
- Lockable cabinet and safe box
- Access to the common areas, garden, and terrace
- Aire Acondicionado
- Servicio de limpieza diaria
- Desayuno Oaxaqueño por menú, incluye fruta fresca de temporada, pan dulce y café o té
- Baño privado con regadera
- Red independiente de internet en cada cuarto
- Televisión HD con canales locales y SmartTV
- Armario con ganchos
- Jabón, shampoo y toallas
- Gabinete con llave y caja fuerte
- Acceso a las áreas comunes
Room 10
---
Located at first floor
(in front of Patio 2)
Double Size Bed
14 m²

Starting at $1,100.00 MXN per night
Rates subject to change depending on season. No taxes included


- AC
- Daily cleaning
- Oaxacan breakfast menu with seasonal fresh fruit, sweet local bread, and coffee or tea
- Private bathroom with shower
- Independent internet network for each room
- HD TV with local channels and SmartTV
- Closet with hook set
- Toiletries: soap, shampoo, and towels
- Lockable cabinet and safe box
- Access to the common areas, garden, and terrace
- Aire Acondicionado
- Servicio de limpieza diaria
- Desayuno Oaxaqueño por menú, incluye fruta fresca de temporada, pan dulce y café o té
- Baño privado con regadera
- Red independiente de internet en cada cuarto
- Televisión HD con canales locales y SmartTV
- Armario con ganchos
- Jabón, shampoo y toallas
- Gabinete con llave y caja fuerte
- Acceso a las áreas comunes
Room 11
---
Located at first floor
(in front of Patio 2)
Double Size Bed
14 m²

Starting at $1,100.00 MXN per night
Rates subject to change depending on season. No taxes included


- AC
- Daily cleaning
- Oaxacan breakfast menu with seasonal fresh fruit, sweet local bread, and coffee or tea
- Private bathroom with shower
- Independent internet network for each room
- HD TV with local channels and SmartTV
- Closet with hook set
- Toiletries: soap, shampoo, and towels
- Lockable cabinet and safe box
- Access to the common areas, garden, and terrace
- Aire Acondicionado
- Servicio de limpieza diaria
- Desayuno Oaxaqueño por menú, incluye fruta fresca de temporada, pan dulce y café o té
- Baño privado con regadera
- Red independiente de internet en cada cuarto
- Televisión HD con canales locales y SmartTV
- Armario con ganchos
- Jabón, shampoo y toallas
- Gabinete con llave y caja fuerte
- Acceso a las áreas comunes
Room 12
---
Located at ground floor
(in front of Patio 2)
2 Double Size Bed
37 m²

Starting at $2,000.00 MXN per night
Rates subject to change depending on season. No taxes included


- AC
- Daily cleaning
-Minibar
- Oaxacan breakfast menu with seasonal fresh fruit, sweet local bread, and coffee or tea
- Private bathroom with shower
- Independent internet network for each room
- HD TV with local channels and SmartTV
- Closet with hook set
- Toiletries: soap, shampoo, and towels
- Lockable cabinet and safe box
- Access to the common areas, garden, and terrace
- Aire Acondicionado
- Servicio de limpieza diaria
- Minibar
- Desayuno Oaxaqueño por menú, incluye fruta fresca de temporada, pan dulce y café o té
- Baño privado con regadera
- Red independiente de internet en cada cuarto
- Televisión HD con canales locales y SmartTV
- Armario con ganchos
- Jabón, shampoo y toallas
- Gabinete con llave y caja fuerte
- Acceso a las áreas comunes